Joseph Thomas, Ph.D.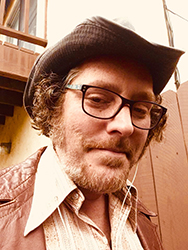 Office: AL-255
Email: [email protected]
A flaneur of some renown, Joseph T. Thomas, Jr. has served as the Director of the National Center for the Study of Children's Literature and teaches courses in a variety of areas, including American literature (he's especially interested in poetry), literature for young folks, literary theory, and cultural studies. Intrigued by all things queer and uncanny, he pursues a fairly broad research agenda. Thomas's scholarly and critical work focuses on the intersections among 20th and 21st century poetry, the historical avant-garde, children's literature (broadly defined), childhood studies, image-text studies, innovative slash intermedial art, popular music (especially funk), and even European Opera. In addition to a handful of poems and a few dozen essays, Thomas has authored two books: Poetry's Playground: The Culture of Contemporary American Children's Poetry (Wayne State UP, 2007), the first book-length study on U.S. children's poetry; and Strong Measures (Make Now P, 2007), a collection poetic experiments blending traditional verse forms (the pantoum, sonnet, villanelle, et cetera) with Oulipo-inspired procedural and aleatory forms (such as the chimera, horizontal acrostic, mesostic, and so forth). Alongside Kenneth Kidd, Thomas co-edited Prizing Children's Literature: The Cultural Politics of Children's Book Awards (Routledge 2016). His scholarly and practical interest in literary prizes began in 2005, when Thomas co-founded The Lion and the Unicorn Award for Excellence in North American Poetry. He would be appointed as The Lion and the Unicorn's inaugural Poetry Editor in 2013, a position he would hold until his 2019 resignation. In addition to co-founding the award, Thomas served as a judge and essayist for the first eight years of the thing, returning in 2017 and wrapping up his tenure as contributing editor in 2018. Enough is enough, he figured.
Thomas has also published and lectured widely on Shel Silverstein, and has completed a monograph exploring his life and work. This monograph, called Shel Silverstein, the Devil's Favorite Pet, rests, unpublishable, on his hard drive. Ask him why and he'll tell you a tale.