Stephen-Paul Martin, Ph.D.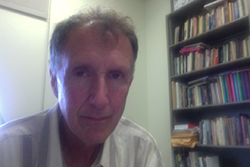 Office: AL-253
Email: [email protected]
Stephen-Paul Martin has published over twenty fiction, poetry, and non-fiction books. One of his short story collections, The Gothic Twilight, was nominated for the National Book Critics Circle Fiction Award in 1993. His most recent book is TwentyTwenty (Spuyten Duyvil, 2023). His other fiction collections include The Ace of Lightning (FC2, 2017) and Changing the Subject (Ellipsis, 2010).
From 1980-1996 he co-edited Central Park, an internationally acclaimed journal of the arts & social commentary. His writings have appeared in over 200 periodicals over the past 30 years, in several different languages. He received his doctorate from New York University in 1983.