Lashon Daley, Ph.D.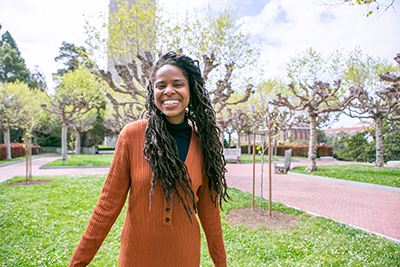 Phone: (619) 594-5442
Office: AL-217
Email: [email protected]
Lashon Daley is an assistant professor of English and Comparative Literature and director of the National Center for the Study of Children's Literature at San Diego State University. Her book project, Black Girl Lit: The Coming of (R)age Performances in Contemporary U.S. Black Girlhood Narratives, 1989-2019, charts how children's literature, film, television, and social media has helped shape our cultural understanding of what it means to be young, Black, and female in the U.S. Lashon received her Ph.D. in Performance Studies with a Designated Emphasis in New Media from UC Berkeley. She also holds an M.A. in Folklore from UC Berkeley and an M.F.A. in Writing from Sarah Lawrence College. Her children's book, Mr. Okra Sells Fresh Fruits and Vegetables, was released in February 2016. Lashon is the 2021 Peter Lyman Fellow in new media. In 2020, she won the Emily Chamberlain Cook Prize In Poetry. In 2018, she won the Mark Goodson Prize for Distinguished Artistic Talent. As a scholar, dancer, storyteller, and choreographer, Lashon thrives on bridging communities together through movement and storytelling. For more information about her work, visit www.lashondaley.com.