Sandra Alcosser, M.F.A.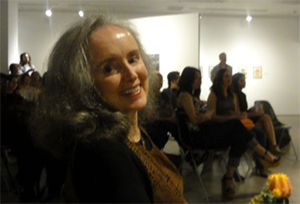 Office: AL-219
Phone: (619) 594-5234
Email: [email protected]
Sandra Alcosser's poems have appeared in The New Yorker, The New York Times, Paris Review, Ploughshares, Poetry and the Pushcart Prize Anthology. She received two individual artist fellowships from National Endowment for the Arts, and her books of poetry, A FISH TO FEED ALL HUNGER and EXCEPT BY NATURE, received the highest honors from National Poetry Series, Academy of American Poets and Associated Writing Programs, as well as the Larry Levis Award and the William Stafford Award for Poetry. Her four artist book collaborations with Brighton Press have been exhibited internationally and reside in museum and special collections including The National Museum of Women in the Arts and Musee d'art Americain Giverny. She was the National Endowment for the Arts' first Conservation Poet for the Wildlife Conservation Society and Poets House, New York, as well as Montana's first poet laureate and recipient of the Merriam Award for Distinguished Contribution to Montana Literature. She founded and directs SDSU's MFA each spring.